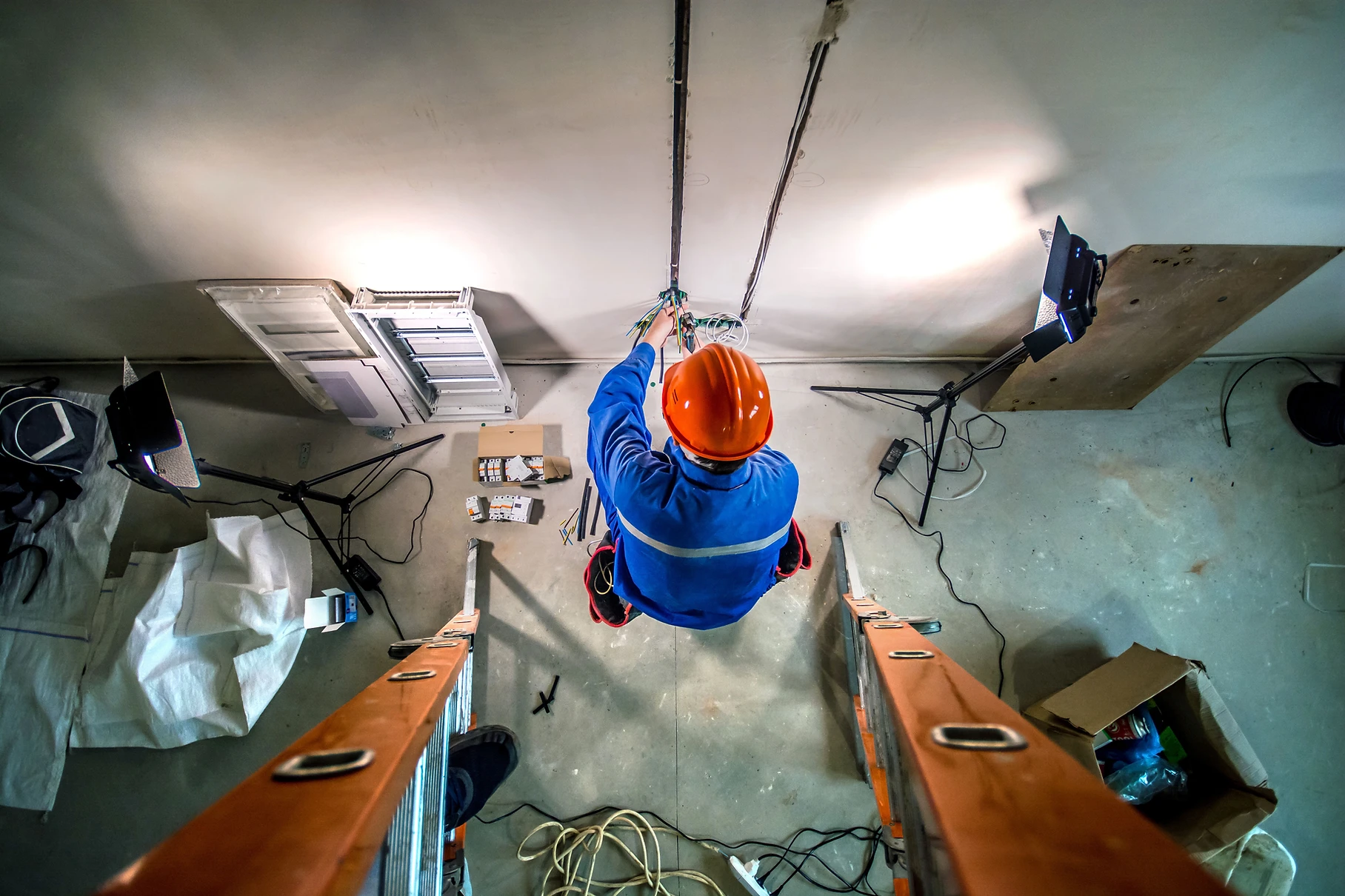 50%
Time Saved
The field team saved half of their time spent logging hours, providing status updates, and completing documents by switching to an automated solution.
30%
Productivity Improvement
By eliminating manual processes, Adept Electrical observed significantly increased productivity across the field and office over the first 6 months of using Ontraccr.
✉
Reduced Administrative Burden
The administrative lead was able to completely remove a number of workflows that were required to support the previous manual processes.
Company
Adept Electrical is a Vancouver-based construction company that works on sites all over the Lower Mainland in British Columbia. Adept specializes in commercial and residential projects, including old home renovations and new home construction, while also taking on apartment and townhome projects.
Firm Type:
Subcontractor
Industry/Services:
New Construction (Commercial & Residential), Home Renovations, and Field Service.
Automating manual time entry & paper-based documentation
Like many other construction organizations, Adept Electrical has to log hours and hours of employee time. However, tracking and estimating hours, while also determining labour costs manually created challenges. The team at Adept Electrical found that manual entry took lots of time and had the potential for input errors, which could often go unnoticed until after it was too late.
​
Adept was using a combination of paper, text messages, and spreadsheets to log field hours and this created a huge layer of administrative work to collect and compile all hours into a central sheet. "We would take time manually, then put the project details in a separate section on Google sheets and then we would go back and put all the hours together with the project. Manually, this took quite a bit of time", said Gary Gakhal, owner at Adept Electrical.
​
In addition to using a manual process to track field hours worked, Adept Electrical was also looking for a more automated solution to manage all of their project documentation workflows. Prior to using Ontraccr, Adept Electrical was using paper-based documentation processes which added a major administrative burden on top of a busy team.
​
"The biggest challenge we were having at the time was getting all the projects logged on time. It was taking lots of time to enter hours, costs, complete documents, and it was all manually done", explains Gary.
​
That's when Adept Electrical discovered the Ontraccr solution and, immediately after seeing a demo, decided it was time for a change. Ontraccr provides a real-time automated time tracking system where, through the use of GPS-based geofencing via their smartphones, employees can log their hours seamlessly just by arriving or leaving the job site. With Ontraccr, hours are compiled and tagged to the correct projects automatically so Adept could immediately eliminate the previous process they were using to compile all the hours manually.
​
"We can now clock in all the times for all the projects wherever [they are], we know exactly where we are sitting in each project and it is all being done automatically. It was a great solution for GPS location. We are literally spending half the time to set up and send all the payroll files for all employee hours", said Gary. "The employees are really liking it. They find it easy to use and they can go back and see all the hours. It is a lot easier for them to go back and see the dates of when they clocked in and clocked out."
​
Ontraccr's automated documentation features also enabled Adept Electrical to eliminate paper-based versions of their documents immediately, including safety forms, RFIs, work orders, change orders, invoices, and more. Digitizing all of their forms and documents has made a huge impact on the team's productivity in a very short period of time after switching to Ontraccr.
Gaining instant visibility into all field activity
Given the breadth and depth of the type of project work Adept Electrical takes on, they had a distributed workforce spread out across many projects at once, each with their own challenges and needs. What made this even more challenging was a lack of complete and instant visibility into what's happening at every job site. With so many field workers on the move, Gary and his team were seeking a solution to keep everyone tightly connected together to ensure that the team can mitigate issues and communicate efficiently.

Switching to Ontraccr instantly gave the management team complete visibility into all their field activity, so they can stay on top of what is happening at any given moment. "I would recommend this to other tradesmen, especially if they have employees that go to different jobs at different locations, it would work very well for them. Also for anybody that has a bigger crew, where you have workers going out to remote projects to see what time they go and what time they leave", says Gary.
Growth potential unlocked
After taking the important first steps toward their digital future, Adept Electrical is just getting started with how they plan to use Ontraccr over the coming years. Above and beyond solving their original problems which caused them to seek a solution like Ontraccr, they have already started rapidly introducing many more beneficial features of Ontraccr into their operations such as tracking boards, custom analytics, and the custom branded client portal to take their business to the next level.
With plans to expand into new lines of business and grow their team, Adept Electrical is pleased that they have been able to exceed the ROI they were hoping for with the Ontraccr platform.
Check out our ROI calculator to see how much ROI you can expect by adopting Ontraccr today!