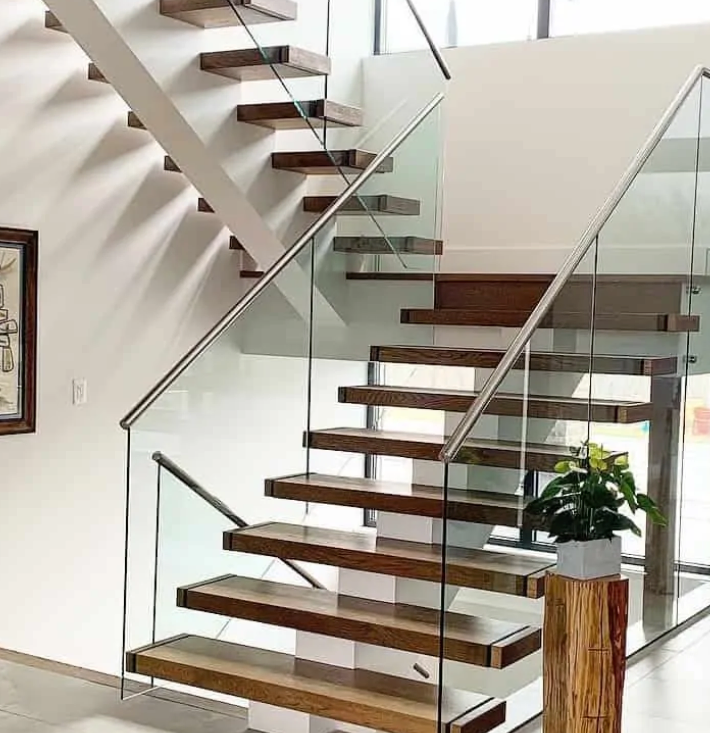 ☻
Unifying the Team Together
Stairline switched from using manual methods of working, such as paper and spreadsheets, to connecting everyone together into one digital platform.
$
Major Cost & Time Savings
By having access to key project information right at their fingertips on any device, the Stairline team become much more efficient and organized.
↑
The Platform for Future Growth
With a fast growing business, Stairline needed a platform that could grow with them and manage unique workflows. That's why they invested in Ontraccr.
Company
Stairline Railings designs, builds, and installs custom stairs and railings that showcase various styles. Their focus is on creating elegant and functional stairways that leave a lasting impression. With great pride in their work, they understand the importance of delivering beautiful and durable solutions that become an integral part of your space for years to come.
Firm Type:
Specialty Contractor
Industry/Services:
Commercial & Residential Construction and Renovation
At Ontraccr, we take pride in empowering construction businesses to streamline their operations and automate manual workflows through our highly customizable no-code platform. In this customer success story, we delve into the experience of Stairline Railings and how they achieved remarkable improvements by adopting Ontraccr.
​
Stairline Railings faced significant challenges in managing their operational workflows, which relied heavily on manual processes using paper and spreadsheets. This led to information gaps, communication breakdowns, and difficulties in locating crucial project details. Seeking a solution that could streamline their operations, enhance collaboration, and adapt to their unique requirements, Stairline Railings discovered Ontraccr — a construction workflow automation (CWA) platform that offered a highly customizable no-code solution. Dominique Lafleur, the Business Manager at Stairline Railings, sat down with us to discuss the impact of Ontraccr on their organization.
From analog & manual to digital & automated
Stairline Railings struggled with a manual workflow management system, where paper and spreadsheets hindered efficient information sharing and created silos within the organization. Locating specific information for client inquiries was time-consuming, and team members had to rely on the project coordinator, causing disruptions and diverting their focus from their core responsibilities. Dominique explained, "Before, obtaining project information required team members to approach the office project coordinator, which disrupted their workflow."

Stairline Railings needed a tool that could organize projects, facilitate communication with team members, and collect information from clients. They searched extensively but couldn't find a customizable and user-friendly solution until they discovered Ontraccr. Dominique highlighted the factors that attracted them to Ontraccr, such as its intuitive layout, user-friendly design, and exceptional customization capabilities. She expressed, "What we loved about Ontraccr over other tools we explored was the flexibility it offered. The program's customization and ease of use were crucial for ensuring high adoption rates among staff members."

The implementation of Ontraccr at Stairline Railings was remarkably smooth. Dominique appreciated the guidance provided by the Ontraccr team during the digital adoption process. They introduced the new software to their staff through meetings and offered individual training sessions to showcase its benefits. A phased approach was adopted, initially focusing on ensuring access to key project information in one centralized location while gradually introducing additional features. Dominique stated, "We initially combined digital and paper-based methods, but as time went on, we shifted to an almost fully digital approach. Our entire team embraced the software quickly and seamlessly."
The unifying force
Ontraccr became the unifying force for the Stairline Railings team, connecting everyone through a seamless experience that kept them informed about all ongoing projects. Dominique emphasized, "Ontraccr has made us feel much closer as a team since we now have access to the same information for active projects." The platform eliminated information silos and enhanced collaboration, resulting in increased efficiency and cost savings. By digitizing all project-related documents and reducing paper files, Stairline Railings saved significant time and reduced the risk of losing important information. Dominique shared her experience, saying, "Ontraccr has already saved us multiple times by providing readily available information and eliminating the need to go back to customers for remeasurements."
Furthermore, the implementation of the Prompt Payment Legislation and Adjudication under the revised Construction Act in Ontario since October 1, 2019 has made it essential to maintain accurate and comprehensive documentation, preferably in digital format. This legislation imposes strict timelines for payment, dispute resolution, and notice of non-payment. Customers in Ontario have 14 days from the invoice date to dispute or provide a notice of non-payment, and contractors must respond to subcontractors within the same timeframe. "Keeping adequate records, materials, plans and photos organized makes the process easier should we need to address these types of issues", she added.
Dominique commended the user-friendly nature of Ontraccr, with its intuitive drag-and-drop and drop-down features, which required minimal training. She appreciated the collaborative approach of the Ontraccr team, their responsiveness to queries, and their incorporation of user feedback into upcoming releases. Dominique mentioned, "The personal touch and connection with the Ontraccr team are incredible." She expressed satisfaction with the constant communication, regular updates, and newsletters that kept her informed about the platform's capabilities, assisting her in planning future workflows.
Growth potential unlocked
Looking ahead, Stairline Railings plans to explore additional features and design customized workflows to support their growing business. Dominique expresses her enthusiasm, stating, "We aim to utilize all the capabilities that Ontraccr offers over time."
Stairline Railings' partnership with Ontraccr has transformed their operations, bringing their team closer together and driving substantial improvements in efficiency. By leveraging the customization and user-friendly design of Ontraccr, Stairline Railings has harnessed the full potential of the platform, positioning their business for continued growth. The affordability and extensive features of Ontraccr make it an ideal solution for both small businesses and larger enterprises seeking enhanced operational control and streamlined workflows.
At Ontraccr, we are committed to empowering construction businesses with innovative solutions, and we are delighted to have played a pivotal role in Stairline Railings' success story.
Check out our ROI calculator to see how much ROI you can expect by adopting Ontraccr today!